Pricing for your organization
Join companies that see a 4X return on investment (WHO, 2021) by strengthening your employees' psychological safety and emotional resilience.
Want to know more before starting?
✓ Boost emotional resilience and emotional intelligence of your workforce
✓ Science-backed mental health training programs & content
✓ Predict & prevent employee's costly destructive behaviors
✓ Mental health tools on individual, team and organizational levels
✓ Save at least 58h/month of your company resources and time
✓ Share responsibility of emotional balance with employees
✓ Increase team performance by fostering psychological safety
All prices are VAT exclusive, billed monthly. Pricing of consultations with therapists is settled separately.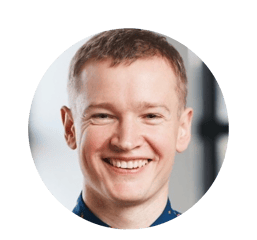 Co-founder, Head of People @ Trafi
"Supporting our team so they could thrive professionally and helping the communities around us - always has been a value of our organization. And the drive for sustainable change also reflects our seeking for productivity.
While juggling all this, Mindletic comes as substantial assistance in providing professional support from their specialists and data-based guidance, which leads to enhanced productivity of our employees. As a user of Mindletic myself, I do see great value in their work: from saving me time as a person of HR to boosting our employees' resilience to everyday struggles and, in this way, increasing their engagement."
A mental health gym - train your minds the same as your body, share responsibility, create a psychologically safe workplace and get the best results for your employees and your company by predicting and preventing costly behavior, improving performance and productivity.
We trust in science-backed training programs and skilled and certified mental health professionals. By guiding the selection based on your preferred language, topics of interest, challenges you are facing, etc., we help you discover your best-matching professional.
We explore various topics to help our clients cultivate emotional resilience and emotional intelligence. The nature of emotions and thoughts is fluid, they have no on/off buttons, but we can train them. If you read something you can use in your daily life, fostering self-care - we feel that's worth all the effort.