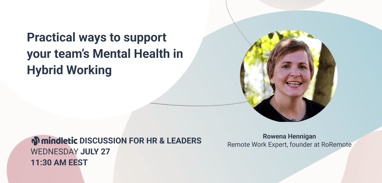 New research into working life post-pandemic has shown that a distressing 42% of employees want to receive more support from their employer when it comes to their mental health. As we evolve and adapt to this new post-pandemic hybrid way of working, it will become increasingly important that we as leaders take steps to transform our approach to how we lead our teams and ensure that their mental health and wellbeing remain at the forefront.
However, supporting the team's mental health is understandably more difficult when half of the team is working remotely at any given time. Therefore, we are going to explore this issue in-depth in our live discussion for HRs and leaders with a founder at RoRemote and a Remote Work Expert Rowena Hennigan. We are going to discuss how to build awareness around this topic, how to practise empathic leadership, how to create an open and supportive team culture and what kind of tools and additional support we can use in this journey.
Date & time: 27th of July, 11:30 AM EEST
Duration: 45 min
Language: ENG
Location: Youtube
About Rowena 🔉:
Rowena Hennigan is an expert in remote work and digital nomadism. A speaker, professor and a globally acclaimed expert in the digital nomadism area, she has recently launched a successful LinkedIn Learning course on "Becoming a Digital Nomad".
#Workisnotaplace - this is Rowena's motto and her trending hashtag. Originally from Galway, Ireland, she is now based in Zaragoza, mixing work and travel with her location-independent family. Rowena advocates for work-life balance, advised by her lived experience of moving countries due to her daughter's ill health. Using her wealth of personal experience in the remote work and digital nomadism area to educate both companies and workers on skills for an effective and positive nomadic experience, she delivers consultancy and training via her brand "RoRemote". She was named in the Top 10 Global Voices in Remote Work by LinkedIn News in 2022, and in the Top 25 list of Remote Work influencers by Remote in 2021 and 2022. Rowena is also an engaging keynote speaker both in live and virtual events: always using real-life experiences and practical exercises, her sessions are interactive, enticing and dynamic.