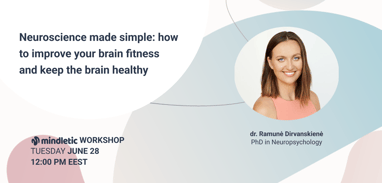 The brain is the most complex organ of the body. It regulates multiple bodily functions, interprets incoming sensory information, and processes our emotions. It is also the seat of memory, intelligence, and creativity.
Because the brain is involved in everything we do, like any other part of the body, it needs to be cared for too. Although the brain gets plenty of exercise every day, certain activities may help boost brain function and connectivity even more. This in turn may lead to improvements in memory, cognitive function, creativity, focus and productivity.
The good news is that we can learn how to exercise the brain more effectively. And this is the topic we are going to explore in this Mindletic seminar together with dr. Ramunė Dirvanskienė, PhD in Neuropsychology. Ramunė will discuss how can we hone our mental sharpness and help our brain stay healthy on a daily basis.
Date & time: 28th of June, 12:00 PM EEST
Duration: 1h
Language: ENG
Location: Youtube live (link will be sent to those registered)
About Ramunė 🔉:
Ramunė holds a PhD in Neuropsychology, she is a lecturer at Vilnius University, head of the Lithuanian Psychology Association's Neuropsychology group, author of the book "How Does the Brain Work?"