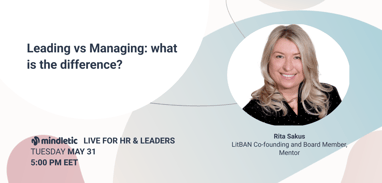 Leading vs Managing: what is the difference?
The terms "leadership" and "management" are often used interchangeably. While there is some overlap between the work that leaders and managers do, there are also significant differences. By understanding the characteristics of effective leaders and how leadership differs from management, you can develop techniques for coaching colleagues, building connections, delivering feedback and creating psychological safety in your team while still meeting those ambitious KPIs.
And that's what we are going to explore in this live discussion for HRs and leaders with LitBAN Founding and Board Member, Mentor Rita Sakus.
Date & time: 31th of May, 5:00 PM EET📆
Duration: 45 min ✨
Language: ENG
Location: Youtube link (link will be sent to those registered)
About Rita 🔉:
Rita is an active investor, board member & advisor in start-ups and is one of the founding members and currently a proud board member of LitBAN. A Lithuanian-Canadian born in Toronto completed a High-tech MBA in Boston, USA. She was responsible for Nortel Network's Israeli investment portfolio 21 years ago while working alongside some of the top VCs in the world at the time.