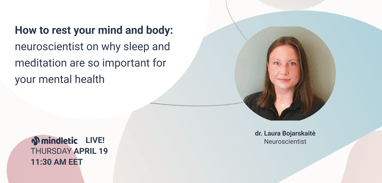 Rest may seem like the most natural thing to do. It's automatic. Kind of like breathing or brushing our teeth: it's something we automatically do every day. And yet for many of us, rest isn't part of our lives, at least not regularly, or at least not genuine rest. Many of us are too focused on striving, not letting ourselves to stop - we wait to rest until we're so exhausted we have no other choice.
In this Mindletic live event, we invited a neuroscientist dr. Laura Bojarskaitė to discuss two types of rest: sleep and meditation. Why are they so vital to us? How do they influence our mental health? How do meditation influences the way we think? And how to have that perfect night's sleep?
Date & time: 19th of April, 11:30 AM EET📆
Duration: 45 min ✨
Language: ENG
Location: Youtube live (link will be sent to those registered)
About Laura 🔉:
Laura holds a PhD in Neuroscience, researches sleep and brainwashing, and is super passionate about making science more accessible to the general public. She has a bachelor's degree in biochemistry, a master's degree in pharmaceutical sciences and since 2015 has been researching sleep and brainwashing (literally) - a process in which "biological trash" is removed from the brain to prevent neurodegenerative diseases. Over the last few years Laura has given a number of talks, seminars, podcasts, radio and video interviews and written popular science articles on sleep and other brainy stuff in major Lithuanian media portals like LRT, Delfi, TV3, 15min, has been on international podcasts like The Snooze Button, her scientific research is published in prestigious journals like Nature Communication and described in international portals like Technology Networks and Neuroscience News.