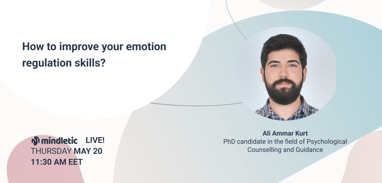 How to improve your emotion regulation skills?
Emotions are a normal part of everyday life. They are information, reactions that we experience in response to events or situations. We feel frustrated when we're stuck in traffic. We can get angry when someone lets us down or does something to hurt us. We feel anxiety when something is not going our way or we are stressed out.
However, there is a difference in how each of us responds to the experience we are having with some people being better at regulating their emotions than others. While it may seem like they're just "naturally calm" these people experience negative feelings too. They've just developed coping strategies that allow them to self-regulate difficult emotions.
The good news is that emotional self-regulation isn't a static trait. Emotion regulation skills can be learned and improved over time. And this is the topic we are going to explore in May's Mindletic live event. We invited a PhD candidate in the field of Psychological Counselling and Guidance Ali Ammar Kurt, who will discuss what is emotion regulation and how can we cultivate those skills better in real life.
Date & time: 20th of May, 11:30 AM EET📆
Duration: 45 min ✨
Language: ENG
Location: Youtube live (link will be sent to those registered)
About Ali 🔉:
I'm Ali Ammar Kurt - PhD candidate in the field of Psychological Counselling and Guidance and research assistant. I graduated from Eskişehir Osmangazi University in Turkey and then continued to my master's degree at Mersin University in Turkey where I currently work and do my PhD. My main research area is close relationships, specifically romantic relationships. Besides that, I'm focusing on counselling psychology, systemic approach, cognitive and behavioural psychotherapy and existential psychology models.