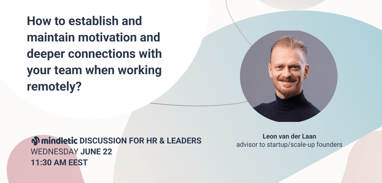 Even in the best of times, nurturing a dynamic work culture isn't easy, but it can be even more challenging when some (or all) team members are working remotely. We know that remote working has plenty of advantages - people who have an option to work remotely feel happier, more engaged and more productive. However, one of the biggest challenges remote employees and their managers face is bonding. Is there a way to do that effectively when there are physical distance, a computer screen, and possibly several time zones between you?
We going to explore this issue in-depth in our live discussion for HRs and leaders with an advisor to startup/scale-up founders Leon van der Laan.
Date & time: 22nd of June, 11:30 AM EEST
Duration: 45 min
Language: ENG
Location: Youtube link (link will be sent to those registered)
About Leon🔉:
Leon is an advisor to startup/scale-up founders, helping them transform their organisation and explore the necessary fruits and blockers to move into a more mature and efficient structure for a breakthrough or a more stable course. Since age 17 he's been fascinated by what drives people and teams to perform and he's been leading teams ever since. Firstly for almost 20 years in a corporate, and for the past 5 years as a consultant/advisor. Leon is also a husband and father of 2 boys, a biohacker, cheese addict, and amateur cook.
Leon's Linkedin profile: https://www.linkedin.com/in/leon-van-der-laan