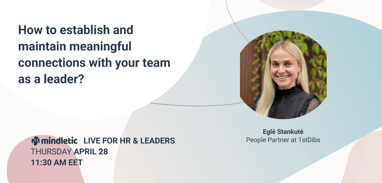 A leader in the workplace faces many challenges. One of them is building positive and effective relationships with their teams. Leaders should seek to regularly connect with employees to gain better company insight and develop personal relationships that drive productivity and engagement. Having an effective way to communicate with employees is essential. Without connection, you won't have the chance to have open conversations where people can talk through issues and get through bottlenecks - in turn, it slows down the company's progress and makes the work of leaders much more frustrating and burdensome.
However, how can we build those relationships and connections? This is the question we are going to explore in this Mindletic live event for HRs and leaders with a People Partner at 1stDibs Eglė Stankutė. Eglė will share her experience on how to create a positive and open relationship with your team; why it's vital to have 1:1's, what communication style should we use; why is it so important to lead by example; how to build a culture of listening and where to start overall.
Date & time: 28th of April, 11:30 AM EET📆
Duration: 45 min ✨
Language: ENG
Location: Zoom (link will be sent to those registered)
About Eglė🔉:
Eglė is an open-minded HR enthusiast who graduated from business studies and now finishing a Psychology academy. She works as a People Partner at 1stDibs - a leading online marketplace for extraordinary design and luxury goods.