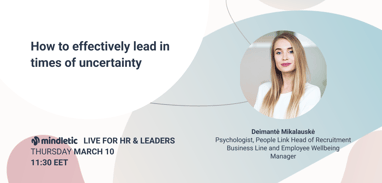 In the uncertain and turbulent times the role of a leader becomes extremely important. Due to the recent events, the majority of leaders and managers are probably wondering how they can better support their teams, colleagues and those in need. How to communicate effectively and emphatically? What kind of procedures should we implement in our organisation? What kind of tools can we offer to support teams?

These are the questions we are going to explore in this Mindletic live session for HRs and leaders with Psychologist, People Link Head of Recruitment Business Line and Employee Wellbeing Manager Deimantė Mikalauskė.

Date & time: 10th of March, 11:30 AM EET📆
Duration: 45 min
Language: ENG
Location: Youtube Live (link will be sent to those registered)
About Deimantė 🔉
I like to be described as a Psychologist the most. The field of interest consists of Organizational Psychology where I have spent 5 years of experience in Business Consulting, Recruitment, Career Counseling, Team Management, and Wellbeing Management. Aside from that, I am also on my way looking for a recipe to combine business and Cognitive-Behavioural therapy priciples for topics like psychological crisis management in organizations, employee stress control, burnout prevention, wellbeing in organizations, coping mechanisms and individual counseling etc.