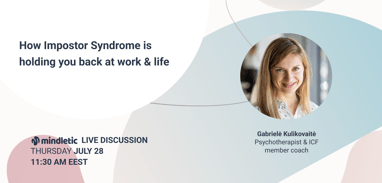 Have you ever felt like you're not good enough to do the job you've been hired to do — and that someone will find out that eventually? Do you sometimes feel that others have it all figured out while you doubt your abilities and fear that you may be a fraud?
No matter how much evidence there is that we're successfully navigating our lives, jobs and relationships, many of us hold false beliefs that we aren't actually as capable or smart as others think we are. This is called impostor syndrome.
When we experience impostor syndrome, we live in constant fear of discovery, therefore we try to strive for perfection in everything we do. We might feel guilty or worthless when we can't achieve it, not to mention burned out and overwhelmed by our continued efforts. Over time, this can fuel a cycle of anxiety, depression, and guilt.
Many people experience symptoms for a limited time, such as in the first few weeks of a new job. For others, the experience can be lifelong. However, there are ways to overcome feeling like an impostor. And this is the topic we are going to explore in this Mindletic live discussion together with a psychotherapist & ICF member coach Gabrielė Kulikovaitė.
Date & time: 28th of July, 11:30 AM EEST
Duration: 45min
Language: ENG
Location: Youtube live (link will be sent to those registered)
About Gabrielė 🔉:
I'm a psychological science-led psychotherapist & ICF member coach and mental health project manager. I have a well-rounded background, and continue to work in two fields (individual clientele & organizations), as I love balancing individual work with clients, as well as project managing, where I am involved in team-based work.
I practice ethical leadership and I am out in the world being an example of that each and every day. Fun fact about me: I won a 3-day jungle survival challenge in Australia.