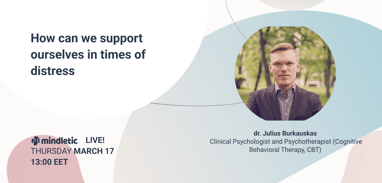 Recent events have brought us a set of unfamiliar emotions, difficult feelings, and unclear inner states. It is natural and normal right now for us to feel sad, scared, anxious or feel like we have little control over things. However, even at these uncertain and turbulent times we have to remind ourselves that there are psychological tools that are available to us in order to support ourselves. It is important to take care of our emotional health and there are ways in which we can help ourselves to feel better.
And these are the topics we are going to explore in this Mindletic live event with a Clinical Psychologist and Psychotherapist (Cognitive Behavioral Therapy, CBT) Dr. Julius Burkauskas. Julius will introduce how Mindful Awareness and Cognitive Behavioral therapy principles could equitably support individuals with tools to manage distress, anxiety and navigate life's challenges.
Date & time: 17th of March, 13:00 AM EET📆
Duration: 45 min ✨
Language: ENG
Location: Youtube Live (link will be sent to those registered)
About Julius 🔉
Dr. Julius Burkauskas is a clinical psychologist and psychotherapist (Cognitive Behavioral Therapy, CBT). Trained in basic psychology at the Vilnius University, Lithuania, he received his M.Sc in Clinical Psychology in 2011 at the University of Leiden, The Netherlands. He defended his doctoral thesis in January 2018 at the Lithuanian University of Health Sciences, where he currently works as a researcher and lecturer in Cognitive Behavioral Therapy and Mindfulness postgraduate courses. He is a visiting lecturer (clinical) at Hertfordshire (UK) University. During his PhD years Julius benefited from quality training at the national and international level, including internships at Harvard (USA) University. His current research mainly focuses on examining effects of mental distress, fatigue, internet addiction, endocrine and inflammatory factors on cognitive functioning in individuals with anxiety and mood disorders.